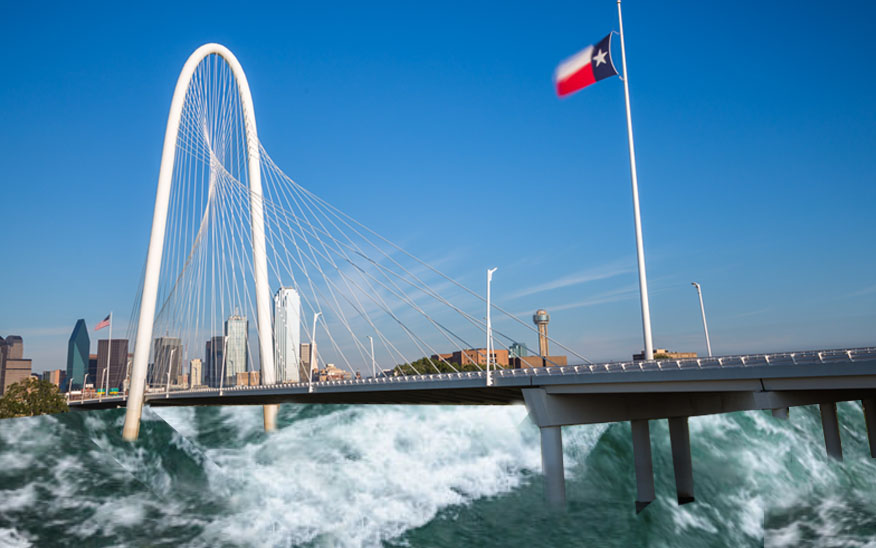 The past few weeks have been new for all of us. I don't know about you, but I had to step back a bit to let the current state of our world sink in. The COVID-19 pandemic has brought us to uncharted territory, causing many of us to feel uncertain, confused and worried. This morning I awoke with a song on my mind that I remembered from childhood: Bridge Over Troubled Water.
The words go like this:
When you're weary, feeling small
When tears are in your eyes
I will dry them all
I'm on your side
Oh when times get roughAnd friends just can't be found
Like a bridge over troubled water
I will lay me down
Like a bridge over troubled water
I will lay me down
When you're down and out
When you're on the street
When evening falls so hard
I will comfort you
I'll take your part
Oh when darkness comes
And pain is all around
Like a bridge over troubled water
I will lay me down
Like a bridge over troubled water
I will lay me down
Sail on, silver girl
Sail on by
Your time has come to shine
All your dreams are on their way
See how they shine
Oh if you need a friend
I'm sailing right behind
Like a bridge over troubled water
I will ease your mind
Like a bridge over troubled water
I will ease your mind
The words of this song speak to me spiritually and have given me much comfort during this time. I can definitely identify with the 'silver girl' right now due to the salon closures! Days of eating, sleeping and staying glued to the television have begun to take a toll. It's been emotionally draining on many levels for all of us. I realized something though, watching something in particular created a spark and contagious boost of energy within me.
It occurred to me that, in watching the news briefings of the White House COVID-19 Task Force, I feel a sense of calm when I hear private sector business representatives speak. Better yet, they give me a jolt of hope and enthusiasm. Companies like My Pillow, Jockey, Honeywell, Procter & Gamble, United Technologies and many more have all significantly contributed to the fight against the coronavirus by using their own specialized resources to provide different materials, services and fundraising not for their own business' bottom line, but for the greater good of humanity. As I watched Target and Walmart, CVS and Walgreens, and various other competitors come together with solutions, I got a lump in my throat and felt overcome with emotion. I see the creativity, ingenuity and flexibility these corporations are using for the betterment of our people, our nation and our world, and I feel proud. The American spirit is alive despite our circumstances. We are truly a GREAT PEOPLE and seeing everyone pull together is a beautiful experience to behold.
I also listened to a Ted Talk: 4 Ways to Build a Human Company in the Age of Machines by Tim Leberecht. This wasn't a recent talk but his advice is certainly on point for this present time:
Create something out of nothing by doing the unnecessary and rising above the status quo
Be inspirational and find the silver lining in where we are today
Create intimacy—the opposite of loneliness—in a time when loneliness is all many people feel
Be ugly by speaking the truth and showing authenticity
Remain incomplete by asking questions and embracing opportunities to learn and grow
Last week, I was inadvertently eavesdropping on a conference call for the management team of a global corporation. I heard the COO say, "Use this time to get better." Bingo. What a gift this time is. Universally, time is something we never have enough; maybe this time of social distancing is actually a precious silver lining for us all. In saying this, I in no way mean to minimize the loss and hardships so many may be forced to endure as a result of the coronavirus. The truth is, though, that except for the loss of life, our other losses can be recovered. It doesn't mean it will be fast or easy, but there is always something we can gain if we choose to embrace the opportunity and are willing to do what it takes to improve and move forward.  
For 26 years, we at Alliance Legal Staffing have differentiated ourselves by putting the emphasis of our business on our heart. We are in the "people" business, and people are the heart of what we do. The most frustrating thing in my life has been the feeling of never having enough time—it seems I am always just a little short of what I need. In the days of social distancing and quarantines, let's build a bridge over the troubled water. Let's use the gift of the time we have been given to connect rather than isolate. Let's visit and talk about where we go from here and how we get there. Let's put our heads together and brainstorm about opportunities to come and strategize about worst-case scenarios. Let's use our time wisely by acknowledging the slowness and calming our minds so we may see more clearly in the days to come.
If you are a member of the legal community and would like to visit, I welcome the opportunity to do so. Rather than focus on paralysis and fear due to uncertainty over the lack of business right now, I am choosing to embrace this gift of time and would like to share it with you. If you find yourself concerned about what lies ahead at your firm, if you've been furloughed or laid off, or if you would like to get a pulse on market topics and/or hypotheticals despite feeling secure in your current role, I am happy to be a mentor to anyone who needs me. Use this time to get better—no matter what that means to you, take this time to get what you need. Chances are and God-willing, we won't have a lull like this again.